A FASCINATING WORLD FULL 0F COLORS [german version]
Angela Becker – Fuhr's artistic visions are expressed in two different media: watercolor and collage.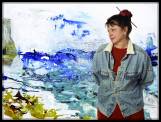 The latter technique was inspired by Dada and Surrealism and was discovered by her late in her own development. She found it an adequate technique which extended itself far beyond the inventions of the visual world. She intuitively combines ideas and materials as well as staging the images illustratively and aesthetically, yet still remaining analytical and intellectual in the breaking down and rearranging of the symbols.
With her watercolors she also tries to capture particular phenomena. Point of origin is always nature, with her specific emission of feelings. The prime theme of her father's work is landscape; the one in which he lived and the ones he travelled through. Her father Curth Georg Becker (1904-1972) was well known German painter and graphic artist. The family lived in the area of Lake Constance, the southernmost landscape in Germany, where Angela was born in 1946. The spell of this particular landscape upon Angela Becker-Fuhr remains unbroken until today. Today she lives ' in Öhningen at Lake Constance.
Her own paintings do not, by all means, deny the artistic influence of the father, who instructed her in painting and drawing at an early age. One can easily see similarities and developments of his style. While she displays in her collages a social critical and intellectual subject matter, in her watercolors she gives way to the spontaneity of the technique to capture her impressions of  nature.
New impulses were transmitted to her by a first visit to Thailand in spring of 1985. Since then quite a few watercolors were created which steer away from the influence of the father. According to her own statement she attributed these travel experiences to her feeling of freedom.
The presented landscapes are not to be separated ho her painterly ideas of interpretations. Without trying to be innovative or overly experimental, Angela Becker-Fuhr remains within the tradition of representational painting. Her images from Thailand are not topographical renderings, but subjectively stylized and color intensified versions of the for her totally new impressions. The artist hardly uses cartooning arid works rather directly with the brush. Using this approach her spontaneity does not get lost in a calculated chance of improvised forces,
but is guided by a consciously chosen path of brush strokes. The stylized landscapes and architectural images are imbedded partially in fluid, transparent colors and also opaque areas. Sometimes this results in an interesting dialogue between representational and autonomously created forms. The concrete representation of objects are subdued in favour of their color importance, which is representing the fluidum of the asiatic landscape. So these watercolored travel impressions do not represent the view of tourism of the exotic world, but try to reflect the transmitted happenings and feelings of the artist herself.
Angela Becker-Fuhr does not imply to have gained the essence of this foreign amazement and astonishment at these from her ownprevious consciousness far removed cultural impressions. Please regard these images  as a quite personal homage to this distant, fascinating world and the people who live in it.
text by Dr.Achim Sommer, Emden